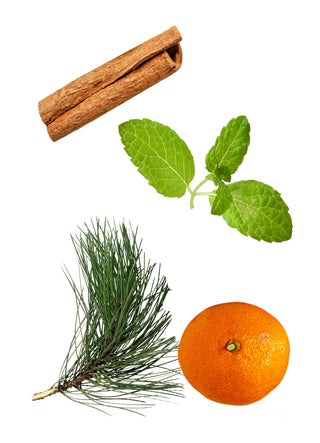 Peppermint oil is known for its ability to boost energy and mental clarity. Inhaling its refreshing scent can help boost your energy. When you light a peppermint-scented candle, it leaves behind a refreshing and cheerful aroma in the room. This aroma can evoke feelings of joy, warmth, and nostalgia.

The fresh, forest-like scent of pine can uplift the mood and reduce feelings of stress and anxiety. The scent of pine needles, similar to that of a fresh forest, evokes feelings of the great outdoors, bringing a touch of nature and the spirit of the season into homes.

Cinnamon oil's spicy and warming aroma can create a cosy and comforting atmosphere. Its scent can evoke memories of holiday baking and gatherings, creating a sense of cosiness and togetherness.

The citrusy aroma of sweet orange brings a refreshing and cheerful vibe to the holiday season. It's a common ingredient in holiday potpourri and scented decorations. The zesty and vibrant scent of sweet orange can create feelings of joy and festivity, making it a popular choice for infusing a sense of freshness and enthusiasm into Christmas celebrations.

Peppermint, Pine, Cinnamon, and Sweet Orange essential oils can work wonders to create a calming and stress-relieving ambiance. Inhaling these delightful scents can trigger the brain to release those feel-good "happy hormones," leaving you with a soothing and joyful feeling.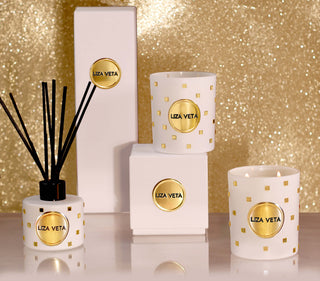 The first time you light your candle always let the wax melt all the way to the edge of the vessel. This helps to prevent tunnelling.

Do not burn your candles for longer than 4 hours at a time.

Don't burn candles all the way down to the bottom. Stop using the candle when 1cm of wax remains in the bottom. Burning to the bottom may cause the container to break and other damage.

Always burn candles on a surface that is heat proof, and away from children and pets, curtains, books, baskets, clothing, vents and ceiling fans etc.

Keep candles out of direct sunlight and away from heat sources.

Allow candles to cool and harden before relighting them.

Candles can be cleaned by wiping them with a dry cloth.

Before each use, trim your wick to 5-7mm in length and make sure it's upright. If your wick is too long it will create black smoke, wick mushrooming and the candle will burn too quickly. Avoid cutting the wick too short as this will create problems with burning and create the candle tunnel.

Before relighting your candle always trim the mushroom or little ball off the top of the wick to keep your candle burning gently.

Cut the wick only when the wax has hardened.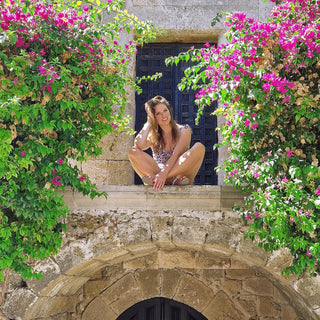 LIZA'S PASSION FOR NATURE
✓ To boost your wellbeing
✓ To Improve your sleep
✓ To help you calm and relax
✓ To Hydrate and rejuvenate your skin and body
_______________
100% natural fragrances
Infused with pure essential oils
Natural colorants and preservatives
100% vegan
No animal testing